Who are the SEO copywriters behind
Write Time Marketing?
You wanna get to know us better, huh?
Well, you've obviously come to the 'write' place!
(Yeah, we love a good pun around here…)
Led by our Chief Content Consultant and Founder, Leanne Shelton, we are a one-stop-shop agency for your health and wellness SEO copywriting and content marketing needs.
While we are based in Sydney's Hills District (NSW, Australia), the beauty of the internet means our team of copywriters are spread all over the country – and can work with anyone. (Thanks, Zoom!) However, if you're local, we'd love to meet up face-to-face if preferred.
Grounded in sales and marketing experience, you can expect a holistic approach with us – meaning we don't just take a brief and run with it. We question things, suggest things, and ensure we're all on the same page.
Being a bit on the extroverted side, our team enjoys working collaboratively with Health and Wellness business owners – as well as website designers and marketing agencies.
Yes, this means we love having a chat. But we also know when it's time to get down to business and delve deep into the project!
Ultimately, we're here to be your cheerleaders – and help you transform your goals into reality. We want to see you move your business forward and build the life of your dreams. (And we thoroughly encourage big thinking here!)
We look forward to working with you!
Leanne Shelton – Chief Copy Consultant and Trainer
At Write Time Marketing, we believe that building strong communities
is the key to transformation and achieving self-satisfying success.
A Sydney girl all my life, my career experience includes journalism, marketing, internal communications, events, and B2B sales in corporate, government, and not-for-profit roles. (At places like TrueLocal, Achieve Australia, Macquarie University, North Shore Temple Emanuel, and Maccabi NSW.)
With now close to 20 years of writing and editorial experience, I started Write Time Marketing as a freelance copywriter in 2014. I had just returned from maternity leave with my eldest daughter and realised the whole full-time-work in part-time-hours thing wasn't gonna work. And I was keen to give the business world a crack!
While on maternity leave, I had become the e-newsletter editor for the sports organisation, Maccabi NSW. And had this brilliant idea of starting a business that would help business owners improve their email content. Well, that kinda flopped. But then I was introduced to website writing and blogging opportunities – and I was hooked!
In recent years, I've discovered my love for training others in content marketing. My Dad is a retired Creative Arts teacher and always told us kids not to become school teachers because of all the politics…but I guess the apple doesn't fall far from the tree. So I found a way around it! You know, teaching adults who actually want to be there!
I started a local Meet Up group in 2018 – aimed at connecting and empowering local business owners. It's still going strong today and has evolved to focus on those in the health and wellness sector. And yes, 'woo woo' people are welcome!
In early 2020, I launched the 'Marketing & Me' podcast which had been a dream of mine for some time. I see it as a win-win-win situation. I get to learn from my guest speakers, they get the business exposure, and the audience benefits as well.
Apart from the Meet Up group, I've also held leadership positions at sporting clubs, the local school P&C, Bx Networking, and the Sydney Hills Business Chamber. I'm currently an Education Partner with the latter and managing their newly launched podcast!
I also run affiliate training with City of Parramatta and Women with Altitude. (And spoken at 2 of their conferences!)
I've been the guest on multiple podcasts and proud to be the Finalist for multiple awards in 2021 and 2022. 
Outside the office, I enjoy dancing, yoga, meditation, running, reading business books and psychological thrillers, listening to inspiring podcasts, and chilling with my hubby and two daughters.
Community
We love the idea of creating a strong community of like-minded clients and peers who behave in a supportive and inclusive manner. We encourage individuality and enjoy strengthening each other's confidence and resolve.
Enthusiasm
We're driven to both generate energy and surround ourselves with passionate people. We thrive off it!
Collaboration
We eagerly work collaboratively with our clients and team to achieve holistically successful projects.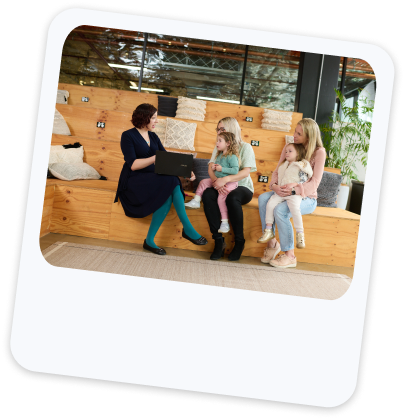 At Write Time Marketing, we are…
Keen to work with us? Awesome!
Start chatting with us via the chatbot below.